CoolSculpting in Chesapeake, VA
Developed by Harvard scientists, Coolsculpting removes unwanted fat non-surgically.
How does it work? Check out the video below:
---
What CoolSculpting Treats:
Unwanted fat on the abdomen, back, love handles, bra fat, double chin, inner & outer thigh, & upper arms
Why Coolscuplting with Dermacare:
We have 5 CoolSculpting University graduates who have performed thousands of cycles.
We combine CoolSculpting to greatly improve results!
I hate needles, and surgery makes me nervous. What is the Coolsculpting process like?
The CoolSculpting fat-freezing procedure is completely non-surgical. Our expert CoolSculpting providers attach the applicator to the area being treated and start the sequence. You'll feel a slight bit of cold for a few minutes then it's time to watch TV, check email, read a book or enjoy a nap! Once the treatment cycle is completed your provider will perform manual massage therapy to the area. This can be a little uncomfortable but is over in less than 5 minutes. Then you can move on to your next cycle, or if finished with everything, return to work and normal activities immediately.

ACTUAL PATIENT(S). UNRETOUCHED PHOTOS. RESULTS MAY VARY.
Is Coolsculpting safe?
Coolsculpting is controlled cooling that targets only your fat cells, which are then eliminated by the body's normal metabolic processes. The cells die on contact and flush out of the body naturally over the course of three to six months. Coolsculpting is ideal for both men and women!
---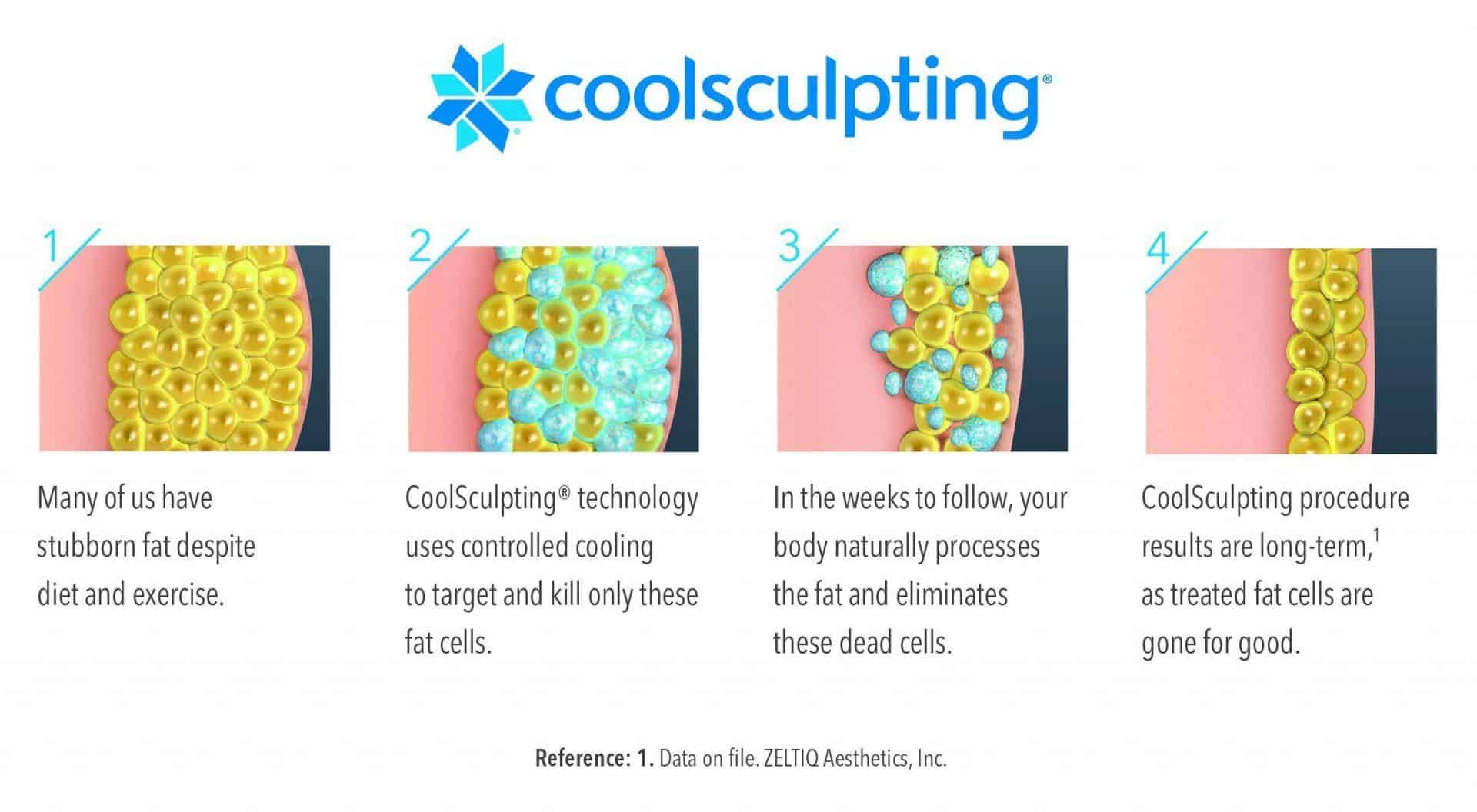 CoolSculpting reduces stubborn fat safely and effectively without needles, surgery, or downtime.
This innovative fat reduction treatment is an FDA-cleared procedure to use controlled cooling to safely target and reduce diet- and exercise-resistant fat.
CoolSculpting technology safely delivers precisely controlled cooling to gently and effectively target the fat cells underneath the skin. The treated fat cells are crystallized (frozen), and then die.
Get Started Today >>
Eliminate Unwanted Fat and Reshape Problem Areas Today
Top Rated CoolSculpting in Chesapeake, VA
Dermacare of Hampton Roads is located on 747 Volvo Pkwy Ste 102, 23320, Chesapeake, Virginia. From Norfolk International Airport (ORF) Get on I-64 E from Airport Rd, Robin Hood Rd, VA-165 S, and Northampton Blvd then Head east on Norview Ave toward Airport Parking Dep Rd and Slight right onto Airport Parking Dep Rd after that Turn right toward Airport Rd then Turn right at the 1st cross street onto Airport Rd and Continue onto Robin Hood Rd then Turn left onto VA-165 S and Turn left after that Use any lane to turn left onto Northampton Blvd then Use the right lane to take the ramp onto I-64 E and Continue on I-64 E to Chesapeake. Take exit 289A-289B from I-64 E then Merge onto I-64 E and Take exit 289A-289B for Greenbrier Pkwy after that Keep right to continue on Exit 289B, follow signs for Greenbrier Parkway S and merge onto Greenbrier Pkwy then Continue on Greenbrier Pkwy to your destination and Merge onto Greenbrier Pkwy then Turn right onto Volvo Pkwy and Turn left onto Progressive Dr then Turn right and Turn right and Turn left.
We're open 10 AM – 6 PM on Monday, 9 AM – 8 PM on Tuesday, 9 AM – 6 PM on Wednesday, Thursday, 8 AM – 4 PM on Friday, 8 AM – 2 PM on Saturday, and we are closed on Sunday.
For additional questions, you can call at 1 757 317 3744 or you can find us on Yelp.