Awe-Mazing is the made-up word of the day because the results our patients see from Exilis Ultra are more than just amazing. They are awe-mazing thanks to the awesome changes and awe they inspire for our patients seeking facial skin tightening.
Some of us age gracefully with limited to no interventions. The rest of us – okay, most of us, but that's our little secret – don't! Over time, and due to different circumstances, the skin on and around our face starts to sag. It loses elasticity and firmness, and it starts to look droopy and old.
Enter Exilis Ultra
It's one of the go-to treatments for body sculpting, but it can also do awe-mazing things in the area of facial skin tightening.
Tightening and rejuvenating the skin in delicate areas such as the face and neck demands precise work. It's important to choose a treatment that produces results with minimal, consistent impact, and Exilis Ultra fits the bill.
Exilis Ultra is the first non-invasive skin tightening device that can also reduce cellulite and fat by using ultrasound energy and radio frequency at the same time. The combined energies create a safer therapy that results in more comfortable and dependable results. In short, it's often the optimal treatment for facial skin tightening and rejuvenation.
The Benefits of Exilis Ultra
Cosmetically, Exilis Ultra produces results you can see. The results are mind-blowing. Just look:
The awe factor is intense. You can see how Exilis Ultra can help tighten skin and produce amazing, more youthful appearances. But the benefits are more than skin deep. Aside from optimal smoother and firmer-looking results, this skin tightening treatment:
Is safe, effective, and non-invasive
Works on all skin types
Has little to no downtime
Produces long-last results
It's no wonder Exilis Ultra has outstanding patient satisfaction ratings.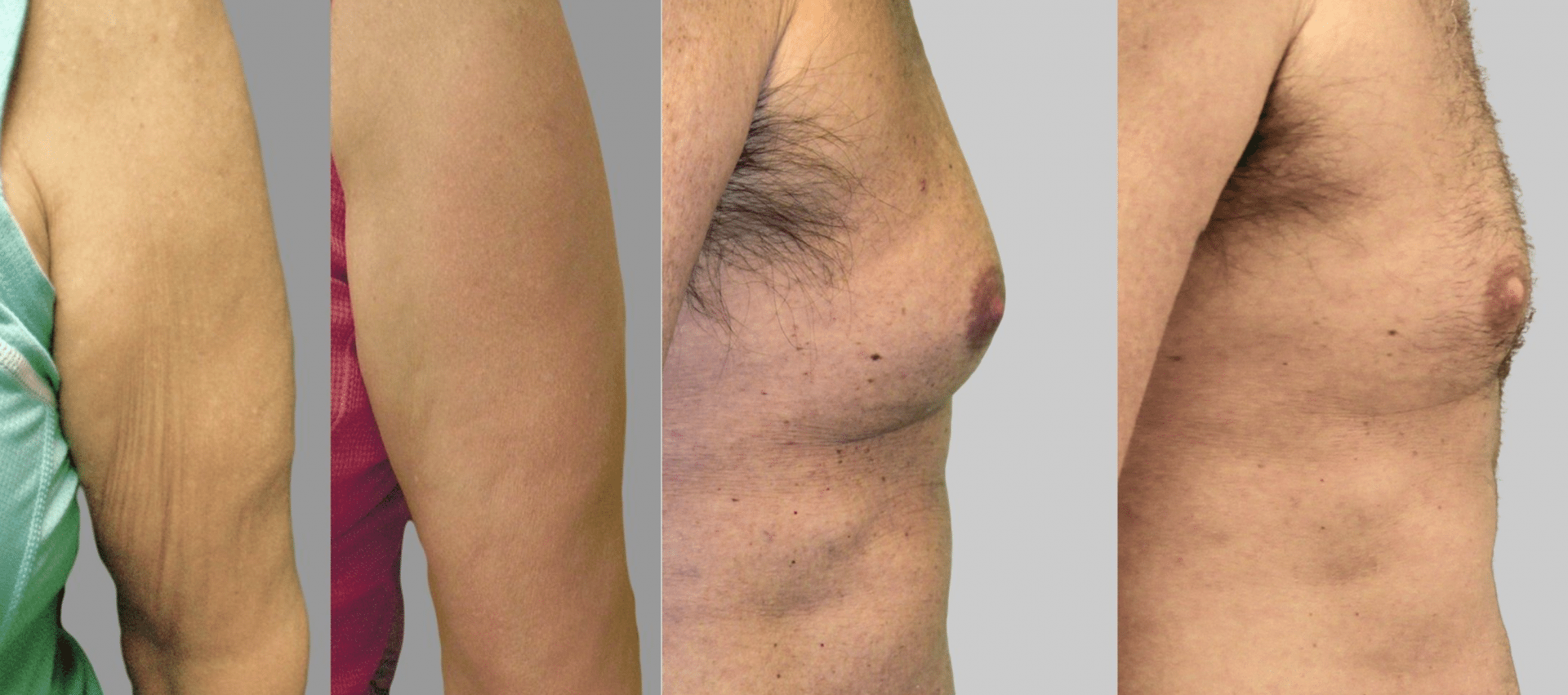 Are There Any Side Effects?
It's a fair question. After all, every medical procedure has its risks, and you should be aware of them before undergoing treatment.
Consumer Health Digest dissected Exilis Ultra and provided a very accurate, positive, and unbiased review of it. We can confirm that it comes with few risks.
Some patients may experience mild irritation, bruising, or redness in the treated area. Consumer Health highlights the need for the treatment provider to be experienced and know how to use Exilis on the right setting for the targeted area. Undergoing the procedure with an inexperienced provider could lead to minor skin burns and some pain.
Hampton Roads Exilis Ultra Experts
One of the most exciting things about Dermacare of Hampton Roads is our highly trained and medically experienced staff. Our practice has over a decade of hands-on experience with skincare and our team has a growing combined experience of almost 15 years. We are licensed and always put your safety and comfort above all else.
Is Exilis Ultra the right treatment for you? Contact us to find out, and don't forget to ask about our membership programs and monthly specials so we can help you save money on treatment options and sessions.